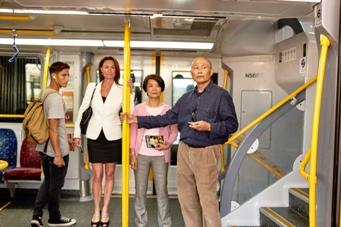 Multicultural support
Opal offers a range of material and support to assist people from culturally and linguistically diverse communities.
To find out more about Opal including benefits, fare details and how to use your Opal card visit one of the 10 multicultural support pages below:
للحصول على المساعدة بلغتك، يمكنك الاتصال بخدمة الترجمة

الشفهيو والخطية

(TIS)

على الرقم

450 131
如果您需要中文帮助,您可以拨打笔译和传译服务Translating and Interpreting Services (TIS) 的电话 131 450
Appelez le Service de traduction et d'interprétation ou TIS (Translating & Interpreting Services) au 131 450 pour demander de l'assistance dans votre langue.
Για βοήθεια στα ελληνικά, καλέστε τις υπηρεσίες μετάφρασης και διερμηνείας (TIS) στο 131 450.
Per ricevere assistenza in italiano, chiamate il Servizio Traduttori e Interpreti (TIS) al numero 131 450.
あなたの母国語での補助は、電話131 450の翻訳通訳サービスにおかけ下さい。
한국어로 도움을 원하시면, 통번역 서비스 (TIS) 131 450 번으로 전화하십시오.
Um Hilfe in Ihrer Sprache zu erhalten, rufen Sie den Übersetzer- und Dolmetscherdienst unter 131 450 an.
Para obtener más información en español, llame al Servicio de traducción e interpretación (Translating and Interpreting Services), al 131 450.
Muốn được giúp đỡ bằng tiếng Việt, quý vị gọi cho Dịch vụ Thông Phiên dịch (TIS) qua số 131 450.
The Gold Opal card for asylum seekers fact sheet has been translated into eight languages:
The Department of Immigration and Multicultural Affairs also provides a Translating and Interpreting Service (TIS) for support in languages in addition to those above and can be contacted on 131 450

.
Once connected to TIS ask them to contact Opal on 13 67 25.