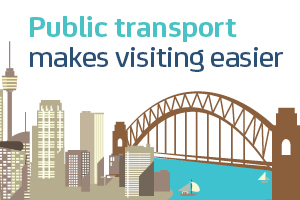 Opal for visitors
Opal makes getting around easy
Whether you want to see the sights of Sydney, or explore the Blue Mountains, Southern Highlands or Newcastle, it's easy on public transport. And to travel on trains, buses, ferries and light rail, all you need is an Opal card.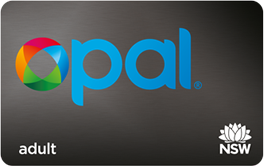 For customers 16 years of age and over who normally pay full fares.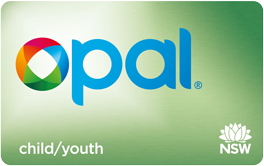 For children aged 4 – 15 years (inclusive)
For full time NSW/ACT school students aged 16 years and older with a NSW Senior Secondary Student Concession card
Need help in your language?
Visit our multicultural support page.
Opal benefits
Daily, Weekly and Sunday Travel Caps
Never pay more than $15.40 a day
Travel all day on trains, buses, ferries and light rail and pay no more than $15.40 per day for adults and $7.70 a day for children.*
Never pay more than $61.60 a week
With Opal your fares are capped each week at $61.60 for adults and $30.80 for children. The Opal week runs from Monday to Sunday.*
Never pay more than $2.60 on Sundays
Fares are capped at $2.60 every Sunday for all Opal customers.*
Weekly Travel Rewards
After eight paid journeys with Opal you can travel for the rest of the week for half-price.*
Opal Transfer Discount
If you switch modes of transport during a journey, you can get an Opal Transfer Discount of $2 for Adult and $1 for Child/Youth Opal cards on each transfer to a new mode of transport. To benefit from the Opal Transfer Discount, you will need to transfer to your new mode of transport within 60 minutes of tapping off from your previous mode†.
Opal trip advantage
If you make several trips using the same mode of transport, as long as your transfer occurs within 60 minutes of tapping off from your last section of the trip†, it counts as a single journey and a single fare.
Save 30% with off-peak train fares
Sleep in, avoid rush hour and save on your train fares with off peak fares
*Excluding Sydney Airport Station Access Fee
†60 minutes applies to all services except the Sydney Ferries F1 Manly service where the standard transfer time is extended to 2 hours and 10 minutes from tap on.
How to apply
If you are in Sydney go to:
How to top up
You can make one off top ups:
*Some retailers require their customers to pay minimum transaction values or a service fee to cover credit/debit card merchant fees.
How much to top up
Here's an overview of the Opal Daily and Weekly Caps and retail top amounts to give you an idea of how much you should add to your Opal card.
$15.40 Daily Cap for adults*
$7.70 Daily Cap for children*
$61.60 Weekly Cap for adults*
$30.80 Weekly Cap for children*
Top up values for Opal retailers and top up machines:
Adult: $10, $20, $35, $40, $50, $60, $80, $100, $120
Child: $5, $10, $20, $30, $40, $50, $60
Capped fare excludes Sydney Airport station access fee: Adult $13.80, Child/Youth $12.40 as the airport stations are privately owned
Tap on and tap off every time
To travel with a valid ticket and pay the correct fare you must tap on and tap off using the Opal card readers at train stations, buses, ferry wharves and at light rail stops. The only exception to tapping off is the Manly Ferry services as there is only one possible stop.
Check the Opal reader display screen and listen for the 'ding' to confirm you've tapped on or tapped off correctly and the correct fare will be automatically deducted from your card.
What to do with your Opal card at the end of your stay
If you have credit remaining on your Opal card you can:
Keep it until your next visit
Lend it to friends or family
Get a refund on your Opal card. You'll need to complete the form, return it with your Opal card to Transport for NSW and have an Australian bank account and address
Things to see and do in Sydney and surrounds
Visit Destination NSW websites for a full list of activities, events and sights of interest in Sydney and the Blue Mountains, Central Coast, Newcastle, Hunter Valley and Illawarra.