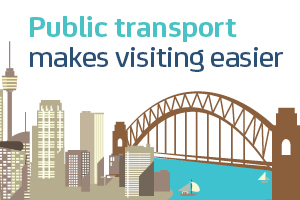 Opal for visitors
Opal makes getting around easy
To catch trains, buses, ferries and light rail in Sydney and surrounding areas you will need an Opal card or Opal single ticket.
The Opal network covers all of Sydney, north to Newcastle, west to the Blue Mountains and south to Wollongong and the Southern Highlands.
If you are taking more than one trip on public transport, using an Opal Card is the most convenient and affordable way to pay for your fares. Simply tap on and off as you go.
Adult Opal cards are for everyone aged 16 years and over who normally pays an adult fare.

Children aged 4 - 15 years are entitled to concession fares.

Eligible secondary students aged 16 years and older with a NSW Senior Secondary Student Concession card are also entitled to concession fares.
Quick guide to get started
Download the Sydney Visitor Guide to find out more about exploring Sydney on public transport.
How to top up
You can make one off top ups:
*Some retailers require their customers to pay minimum transaction values or a service fee to cover credit/debit card merchant fees.
How much to top up
The Opal Daily and Weekly Caps below give you an idea of how much value you should add to your Opal card. Find out more about the top up options and values available.
$15.80 Daily Cap for adults*
$7.90 Daily Cap for children*
$63.20 Weekly Cap for adults*
$31.60 Weekly Cap for children*
*Capped fare excludes Sydney Airport station access fee: Adult $14.30, Child/Youth $12.80 as the airport stations are privately owned
What to do with your Opal card at the end of your stay
If you have credit remaining on your Opal card you can:
Need help in your language?
Visit our multicultural support page.
Learn more