Travelling with Opal
You can travel for free as an Opal customer if you are severely vision impaired or blind and hold a Vision Impaired Person's (VIP) Travel Pass. While your VIP card is still your primary pass for free travel, Opal now means that you can independently open the access gates at train stations and ferry wharves throughout the Opal network.
You're covered for travel across Sydney and the Blue Mountains, Central Coast, Hunter, Illawarra and Southern Highlands on public transport including:
All Sydney Trains
All NSW TrainLink Intercity services
All buses in Sydney and the Blue Mountains, Central Coast, Hunter and Illawarra
All Sydney Ferries and the Stockton Ferry in Newcastle
Light rail
Who can apply?
You're eligible for a VIP TravelPass and an Opal card for free travel if you are:
Residing permanently in NSW and
Have been assessed by an ophthalmologist (or optometrist in rural and regional areas) as having:
Visual acuity on the Snellen Scale less than 6/60 in both eyes while wearing the appropriate optical correction (glasses or contact lenses) or
A field of vision constricted to 10 degrees of arc in the better eye, irrespective of corrected visual acuity or
The combination of visual defects results in the same visual impairment as that which occurs in the above two conditions.
How to apply
Call 131 500: If you already have a Vision Impaired Person's Travel Pass.
Online: If you don't have a Vision Impaired Person's Travel Pass, you'll need to apply for the pass and the Opal card at the same time. Download the application form, fill it in and post it to the address below with two current colour passport sized photos:
Transport for NSW
PO Box K659
Haymarket NSW 1240
Remember your application must be completed by an ophthalmologist (or an optometrist in rural and regional areas).
Proof of entitlement
When travelling you must always carry your VIP Travel Pass as your Opal card itself isn't proof of entitlement. The pass is valid for five years so remember to reapply before it expires so that you can always use it.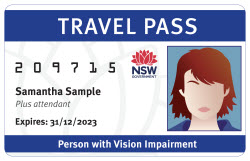 Travelling with an attendant
If your VIP Travel Pass is marked "plus attendant", you'll receive an additional Opal card marked for their use. This will be posted to you separately.
Tap on and tap off
Tapping on and tapping off isn't compulsory, however, you can open station and wharf gates by tapping on and off with your Opal card.
To tap on and off simply hold your Opal card against the Opal card reader.
Listen for the single "ding".
If you need help just ask Transport staff.
Sydney Airport station access fee
For travel to and from Sydney airport stations, transport staff will need to open the gates for you. Depending on your entitlements, you and your attendant may need to pay a Sydney Airport station access fee, depending on the details outlined in the letter that Transport for NSW sent to you with your entitlement card, as the airport stations are privately owned.