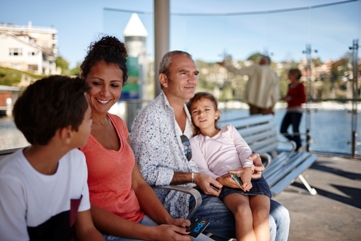 Opal for kids
Child/Youth Opal card
With Child/Youth Opal cards, there are loads of rewards for travel on the weekends and regular travel during school holidays.
You can get a Child/Youth Opal card if:
You're aged between 4 – 15 years (inclusive)
You're a full-time NSW/ACT school students aged 16 years or older with a Senior Secondary Student card, issued by your school, as proof of entitlement.
Child/Youth Opal card benefits
Never pay more than $7.90* Monday to Saturday
Never pay more than $2.70* on Sundays
After eight paid journeys you travel half the price of the fare* – thanks to the Weekly Travel Reward
Get $1 discount on each new mode of transport you transfer to during a journey – just be sure to tap back on your new mode of transport within 60 minutes of tapping off from your last mode of transport.
* Excluding Sydney Airport station access fee
How to apply
It's easy to get a Child/Youth Opal card:
You need to allow around five to seven days for delivery when you order Opal cards online or over the phone.
Travelling with your Opal card
If you're travelling with a Child/Youth Opal card and you're 16 years or older, you'll also need to carry a valid NSW Senior Secondary Student Concession card, issued by your school, as proof of entitlement or you could be fined.
How to top up
If you don't add value to your Opal card when you first order it, you need to add some value before you travel.
You can top up your Opal card:
For online and phone top ups, you can access your new balance in as little as 15 minutes for trains, ferries and light rail. Allow up to 60 minutes for buses. You must tap on at an Opal card reader within 60 days to collect the top up value on your card, otherwise your top up value will be reversed to your credit/debit card account. Some retailers require their customers to pay minimum transaction values or a service fee to cover credit/debit card merchant fees.
Find out more about topping up
Get the Opal Travel app
You can plan your trips, search your transaction history, top up your Child/Youth Opal card and even calculate your fares, all from your smart phone.
School Opal card
The School Opal card gives eligible school students free travel on public transport between home and school on trains, buses, ferries and light rail within the Opal network.